Japan back on investor radars after Buffett increases trading company stakes
Berkshire Hathaway's chairman and CEO Warren Buffett brought the Japanese market into the spotlight as he travelled to Tokyo and revealed that he had increased his stakes in Japan's five large trading companies. The renowned stock-picker, who first purchased the trading companies in 2020, told the Nikkei during his visit that he may further boost investment in Japanese stocks. Furthermore, Buffet subsequently reportedly said that "we're not done" with Japan at Berkshire Hathaway's annual meeting early in May.
Before discussing the potential impact of Buffett's interest in Japan, it is worth explaining what Japanese trading companies are as well as their potential appeal. These firms, known domestically as "sogo shosha", are unique to Japan. While trading companies with a specific focus—such as certain types of commodities—can be found globally, the sogo shosha stand out as they each trade an extensive array of commodities and goods. They have served as a hub for Japanese production by importing raw materials and exporting manufactured products. Unlike some other countries, in Japan firms akin to oil and gas majors do not have a major presence in the energy space. The trading companies instead play a major role by acquiring interests and providing the country with commodities such as crude oil. The business model is actually like that of Berkshire Hathaway itself, which is directly engaged in the power distribution business through holding companies. Buffet may therefore view the trading companies and their business portfolios with a degree of familiarity. As such, it may not be as simple as a value investor sensing a bargain and scooping up cheap shares; Buffett may see the potential merits of owning them from a broad, long-term perspective.
Buffett's approach to Japanese equities—such as his focus on "stodgy" trading companies in a market which lacks exciting GAFA-like names—may not be for every foreign institutional investor to emulate. But while Buffet's interest is unlikely to open the floodgates of foreign investments into Japan, it does help put the country back on investor radars. In some ways Japanese equities can be seen as one big value market, which will inherently bear potential value trap risks. The attention that a renowned investor such as Buffett brings is a great opportunity for Japanese companies to revise their business strategy, restate their vision, and disclose non-financial information underlining the management strengths, thereby assuring investors that they are not a value trap. The recognition from Buffett could also provide domestic investors with a confidence boost, although that alone will not be a tonic for a market grappling with issues such as a host of companies with low price-to-book ratios.
TSE's "name and shame" tactic a surprise but possibly a shock the market needed
The Tokyo Stock Exchange (TSE) in February raised eyebrows by announcing that it would ask listed companies with price-to-book (P/B) ratios consistently below 1 to "disclose their policies and specific initiatives for improvement". The latest initiative can be seen as a part of the TSE's long-running effort to improve corporate governance. But it was still surprising that a stock exchange, whose main task is to provide a platform for share trading, directly involve itself in an issue related to stock prices. The exchange may have felt compelled to take action, as investor engagements with listed companies—which the TSE has been trying to encourage as a part of a broader corporate governance improvement agenda—have yet to significantly boost P/B ratios.
The TSE's "name and shame" tactic of asking companies with low P/B ratios to publicly disclose information could be a step in the right direction. Companies can raise low P/Bs in the short term through measures such as share buybacks, but that will not offer real long-term solutions. The problem with many such companies is low profit margins. Improving profit margins will require companies reconstituting their business plans and management structures— matters that stock exchanges usually do not get involved with. However, the shock value of the TSE outpointing low book ratios could be positive for stock prices in the long term.
There is always the risk of companies all resorting to methodical tactics such as share buybacks to bring their P/B ratios above 1. Institutional investors will have a role to play to put such attempts in check. Investors, through purposeful dialog, will need to ensure that companies improve their P/B ratios in a more meaningful way.
Market: Japan stocks gain in April as BOJ maintains accommodative policy
The Japanese equity market rose in April, with the TOPIX (w/dividends) up 2.70% on-month and the Nikkei 225 (w/dividends) gaining 2.91%. Stocks were under some downward pressure from rising concerns regarding an economic downturn in the US after the country's macroeconomic indicators came in below market expectations. However, this was offset by positive factors such as the new governor of the Bank of Japan (BOJ) indicating an intention to maintain the current monetary easing policy at his first press conference, which was followed by further confirmation of this point later in the month when the BOJleft its accommodative monetary policy unchanged at its Monetary Policy Meeting. Japanese equities were also supported by expectations for exporters' earnings to improve on the back of further depreciation of the yen against the US dollar, and improved investor sentiment following the release of strong domestic corporate earnings.
Of the 33 Tokyo Stock Exchange sectors, 30 sectors rose, including Other Products, Construction, and Electric Power & Gas, while only three sectors declined: Iron & Steel, Securities & Commodity Futures, and Metal Products.
Exhibit 1: Major indices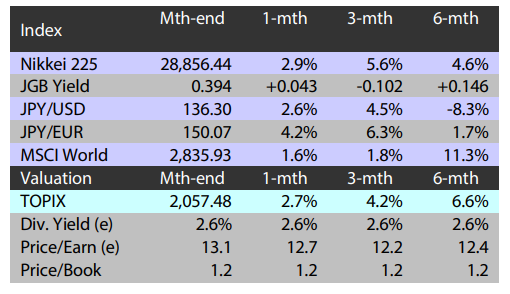 Source: Bloomberg, as at 28 April 2023
Exhibit 2: Valuation and indicators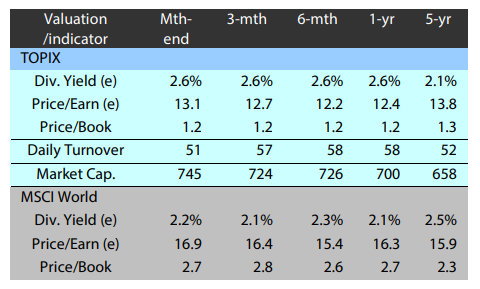 Source: Bloomberg, as at 28 April 2023