We gauge Japan's slow vaccine rollout from an economic perspective and assess the shift in work styles that occurred during the pandemic and its potential impact on real estate prices.
Gauging Japan's slow vaccine rollout from an economic perspective
Until recently, Japan was lauded as one of the few countries that successfully limited the COVID-19 outbreak. However, more than a year into the pandemic, Japan's slow vaccine rollout is coming under increased scrutiny with the country lagging far behind its G7 peers in vaccinations. We can identify two main reasons for Japan's slow rollout. First, Japan has been unable to develop its own vaccine in time and is therefore reliant on imports; in other words, it essentially needs to wait until vaccine-producing countries are done inoculating their own populations. Second, Japan has a particularly onerous approval process for pharmaceuticals—developed because of numerous drug disasters in the past—which considerably slows the development and import of vaccines.
Japan is currently experiencing its fourth wave of infections and its third state of emergency amid the sluggish vaccine rollout and the brunt is once again being borne by sectors linked to travel and services. Restrictions placed by the government on the movement of people has weighed on the portions of the GDP linked to consumer spending on travel and services, in particular businesses faced with shorter operating hours and fewer customers.
However, we risk underestimating the resilience and scale of the broader economy by solely focusing on the new waves of infections and slow vaccine rollout. Services employ large numbers of people via retail and eating establishments, but while being labour intensive, they do not have a very big impact on the GDP relative to other sectors such as manufacturing. This means developments affecting services will have a bigger social effect rather than an economic one. Consumption during the pandemic has steadily shifted from services to goods. Demand for goods has stabilised the manufacturing sector, which is also benefiting from strong exports to a robust China and now to the US, with the latter emerging from the pandemic following its rapid vaccine rollout.
Despite its slow rollout, Japan has maintained its manufacturing output; the country's stock indexes are also at steady levels. That said, Japan still needs to address the administrative inefficiencies that have become evident during the pandemic so it can bring its vaccine distribution up to speed.
Japan's "work-style reform" and impact on real estate prices
The COVID-19 pandemic has altered working habits globally and Japan has been no exception. Remote working, encouraged by the government's "work-style reform" initiative, finally gained acceptance in Japan, long known for its resistance to change. Images of many buildings in downtown Tokyo that have emptied out during the pandemic appear to have caused concern among some investors that a change in working habits could negatively affect real estate prices by reducing office demand.
However, while Japan has indeed embraced remote working, and the change has been significant, it has not been a revolution, as evidenced by the large numbers of workers still commuting during the states of emergency. On a scale of one to 10 (where one represents everyone commuting to the office and 10 everyone teleworking), what was nearly non-existent prior to the pandemic has gone up to 2 or 3, in our view, but certainly not to 8 or 9. Even for those working from home, many are likely doing so because they have little other choice during a pandemic. Once the economy fully re-opens, many workers are expected to resume commuting to work, encouraged by factors such as Japan's relatively outdated home internet environment. Another reason that office demand is unlikely to decline any time soon is the fact that many large companies, while encouraging their employees to work remotely, have maintained their office buildings.
We nonetheless expect remote working to affect the real estate market in different ways. A polarization could occur in the market with prime assets, such as large office buildings in central Tokyo, continuing to attract strong demand while smaller, older and less profitable buildings may find it difficult to replace the clientele lost during the pandemic. Another development during the pandemic that is likely to affect the market is the increase in so-called satellite offices, established part way between residential suburbs and major urban centres. The establishment of satellite offices is expected to drive up real estate value in cities in the periphery of major urban areas such as Tokyo and Osaka.
Market: Extended state of emergency, slow vaccine rollout weighs on Japan equities
The Japanese equity market declined in April, with the TOPIX (w/dividends) falling 2.84% on-month and the Nikkei 225 (w/dividends) dropping 1.25%. During the month, Japanese stocks were briefly lifted by better-than-expected business sentiment in the Bank of Japan's tankan business survey. However, the market shifted to more risk-off stance given Japan's relatively slow vaccine rollout compared to the US and Europe and concerns over the impact of restrictions on economic activity as a resurgence of COVID-19 infections prompted Japan to announce another state of emergency in major cities. As a result, Japanese equities finished the month lower. Of the 33 Tokyo Stock Exchange sectors, only four sectors rose, including Marine Transportation, Iron & Steel, and Securities & Commodity Futures, while 29 sectors including Electric Power & Gas, Pharmaceuticals, and Oil & Coal Products, declined.
Exhibit 1: Major indices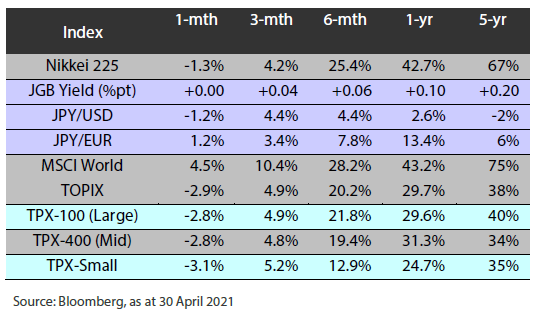 Exhibit 2: Valuation and indicators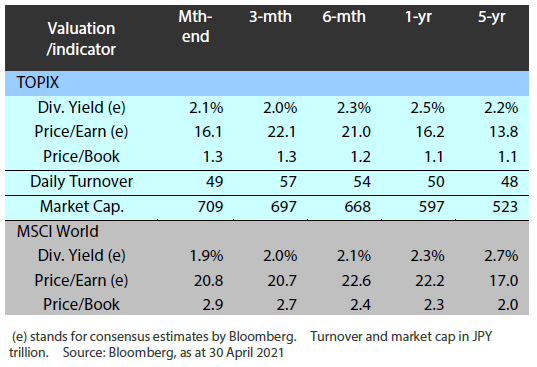 Exhibit 3: Major market indices
TOPIX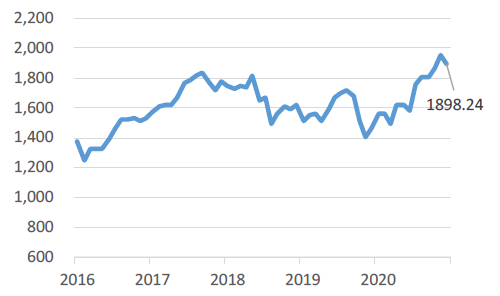 USD/JPY