The fund seeks to achieve a NAV that closely correlates with the movement of the JPX/S&P CAPEX & Human Capital Index by investing in shares of the component stocks of the JPX/S&P CAPEX & Human Capital Index, and maintaining, in principle, a portfolio constructed consistent with the calculation method of the JPX/S&P CAPEX & Human Capital Index.
Net Asset Value and Performance
NAV (per 10 shares):

¥

(As of: )

Net Assets:

 million

Day change:

¥

Issued:

 shares
Fund Name
Listed Index Fund Japanese Economy Contributor Stocks
Open-ended type/Domestic/Equity/ETF/Index fund
Listed Exchange
Tokyo Stock Exchange
Issue Code
1481
Targeted Investments
This fund aims to achieve investment returns that link with the movement of the JPX/S&P CAPEX & Human Capital Index.
Date Listed
May 25, 2016 (scheduled)
Exchange Trading Unit
1 unit
Trust period
Unlimited (Launch date: May 24, 2016)
Computation Period
From 9 January to 8 April, 9 April to 8 July, 9 July to 8 October of each year, and from 9 October to 8 January of the following year
Closing Date
8th of January and July (every year)
Dividends
As a general rule, the full amount of dividends and other income arising from the trust assets is distributed after deduction of expenses.
* There is no guarantee on the payment or the amount of dividend.
Overview of Fees & Expenses
Trading Fee
Fee as determined by the distributor. Inquire with the distributor for details.
Amount to be Retained in Trust Assets
None.
Trust Fee

No more than 0.378%(0.35% excluding taxes) per annum of the daily total NAV of the fund.

*The investment management fee is paid out of the trust assets at the end of each calculation period or at the time of termination of the Trust.

Distribution of Investment Management Expenses(annual rate)

When above is 0.15%, as of the date of filing of the securities registration statement:

Investment Management Expenses(Trust fee)
=NAV of investment period X Trust fee rate
Net Assets
Total
Management Company
Trustee
10,000 million yen and under
0.15%
0.10%
0.05%
Above 10,000 million yen
0.15%
0.12%
0.03%

*In the case that Net Assets are above 10,000 million yen, the distribution by Management Company and Trustee will be changed.

| | |
| --- | --- |
| Management Company | Compensation for investment management |
| Trustee | Compensation for administration of assets under management and execution of orders from Management Company |

*Figures are excluding tax. Consumption tax will be added.

Other Fees and Costs

Not more than 0.1% per annum of total daily net assets during trust period of the fund.

1. Expenses for the preparation and distribution of prospectuses, 2. Cost for accounting and its incidental operations, 3. Cost for preparation of financial summary statement (including outsourcing fee in case of outsourcing the (1) - (3) operations), 4. Auditing fee, 5. Fees related to the listing of the fund, 6. Royalties for the MSCI Japan IMI Custom Liquidity and Yield Low Volatility Index, and others are paid out of the trust assets at the times specified by the Management Company.

*Auditing fee is an expense paid to audit firm for auditing of the Fund.

Brokerage commissions on securities in the portfolio, interest on borrowings, interest on advances, lending fee (in case security lending is conducted, the amount obtained by multiplying a lending fee on securities lent by a figure which is profit for Trust Assets, not exceeding 0.54 (0.5 excluding taxes) (0.5 excluding taxes as of the date of the filing of the securities registration statement), and other fees are paid out of the trust assets each time they are incurred.

*The figures for items such as the rate and maximum amount cannot be provided in advance as they fluctuate in line with investment performance and other factors.
Trustee Companies
The Sumitomo Mitsui Trust Bank, Limited
JPX/S&P CAPEX & Human Capital Index is an index underlying the stocks of firms who proactively making investment in physical and human capital. Within its universe of TOPIX, investment names are selected by liquidity, credit, and market valuation stability screening and by evaluation of capital investment growth, increased profitability by capital investment, and human resource circumstances and its profitability. Indexation setting September 16, 2005 as 1,000 points.
Further Information
Japan Exchange Group (JPX)
Japan Exchange Group publishes summaries and lists of the ETFs, as well as other valuable information on their website.
Copyright
The "JPX/S&P CAPEX & Human Capital Index" is a product of S&P Dow Jones Indices LLC or its affiliates ("SPDJI"), Japan Exchange Group, Inc. ("JPX"), and Tokyo Stock Exchange ("TSE"), Inc., and has been licensed for use by Nikko Asset Management Co., Ltd. Standard & Poor's® and S&P® are registered trademarks of Standard & Poor's Financial Services LLC ("S&P"); Dow Jones® is a registered trademark of Dow Jones Trademark Holdings LLC ("Dow Jones"); and these trademarks have been licensed for use by SPDJI and sublicensed for certain purposes by Nikko Asset Management Co., Ltd. JPX® is a trademark of JPX and has been licensed for use by SPDJI and Nikko Asset Management Co., Ltd. Listed Index Fund Japanese Economy Contributor Stocks is not sponsored, endorsed, sold or promoted by SPDJI, Dow Jones, S&P, their respective affiliates, none of such parties make any representation regarding the advisability of investing in such product(s) nor do they have any liability for any errors, omissions, or interruptions of the JPX/S&P CAPEX & Human Capital Index. The TOPIX Index Value and the TOPIX Marks are subject to the exclusive rights owned by the Tokyo Stock Exchange, Inc. and the Tokyo Stock Exchange, Inc. owns all rights and know-how relating to the TOPIX such as calculation, publication and use of the TOPIX Index Value and relating to the TOPIX Marks.
Authorized Participants
SMBC Nikko Securities Inc.
ABN AMRO Clearing Tokyo Co., Ltd.
BNP Paribas Securities Japan Ltd.
Citigroup Global Markets Japan Inc.
Daiwa Securities Co. Ltd.
Deutsche Securities Inc.
Goldman Sachs (Japan) Co., Ltd.
J.P. Morgan Securities Asia Pte. Co., Ltd.
Mitsubishi UFJ Morgan Stanley Securities Co., Ltd.
Morgan Stanley MUFG Securities Co., Ltd.
Nomura Securities Co., Ltd.
Daily Creation and redemption are based on ETF's NAV calculated in early evening. Confirm non-tradable days by referring to trading calendar on our official homepage. Basket for creation is continually-updated on our official homepage.
Basically sell/buy underlying asset at last price of T day's market.
The flow chart below is showing the creation/redemption process for Nikko AM ETFs. Please note that transactions cannot be processed for days on which applications are not accepted.
Creation Flow for Cash Creation/Redemption Type ETFs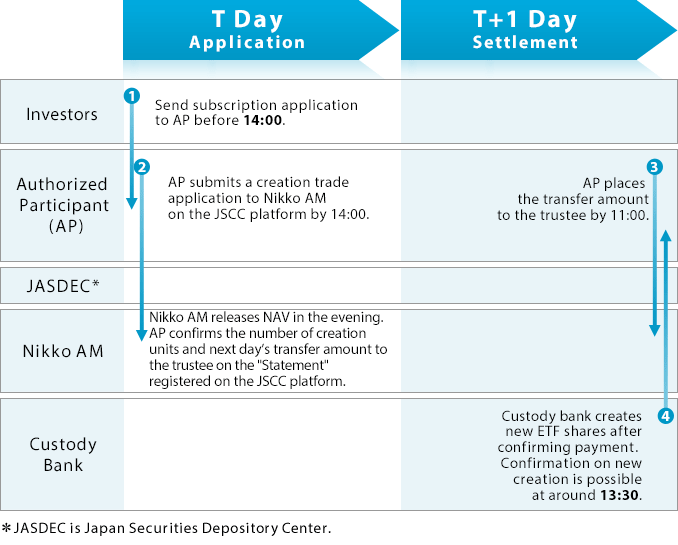 Redemption flow for in-kind Creation/Redemption Type ETF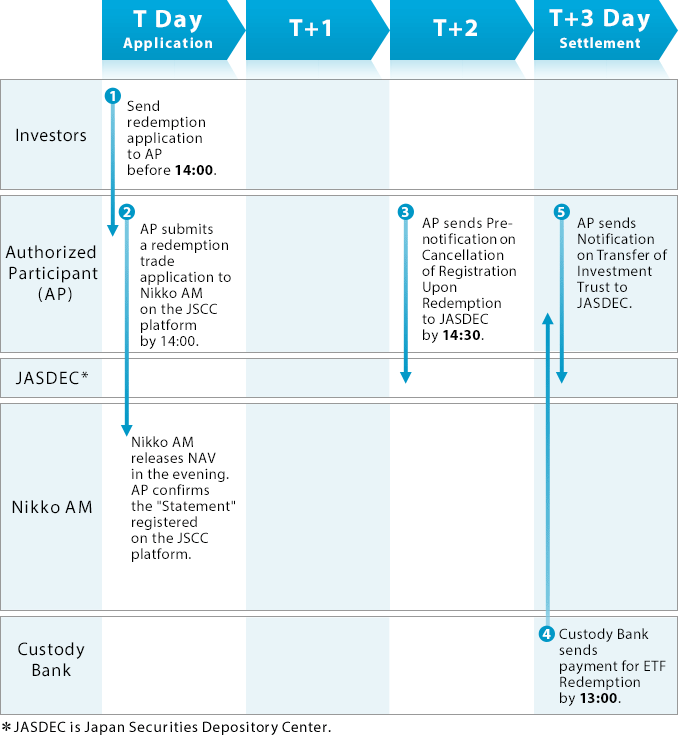 Investors are not guaranteed the investment principal that they commit. Investors may incur a loss and the value of their investment principal may fall below par as the result of a decline in market price or NAV. All profits and losses arising from investments in the Fund belong to the investors (beneficiaries). This fund is different from saving deposit.
The Fund invests primarily in stocks. The NAV of the Fund may fall and investors may suffer a loss due to a decline in stock prices or deterioration in the financial conditions and business performance of an equity issuer.
Major risks are as follows:
1. Price Fluctuation Risk
Stock prices fluctuate as they are affected by information on the company's growth rate and profitability as well as changes in such information. They also fluctuate as they are affected by economic and political conditions in Japan and abroad. There is a risk that the Fund will suffer material losses if unexpected changes occur in stock price or liquidity.
2. Liquidity Risk
The Fund may incur unexpected losses when the size of the market or trading volumes is small. The purchase and sale prices of securities are influenced by trading volume, resulting in the risks that they cannot be traded at prices expected to be realized in light of the prevailing market trend, sold at the estimated prices, or that the trading volume is limited regardless of the level of prices.
3. Credit Risk
There is a risk that the Fund will incur material losses in the event of a serious crisis that directly or indirectly affects the business of a corporation in which the Fund invests. The prices of stocks of issuers may substantially decline (possibly to zero) due to fears of default or corporate bankruptcy, which can contribute to decline in the Fund NAV.
4. Security-lending Risk
Lending of securities involves counterparty risks, which are the risks of contractual default or cancellation following bankruptcy, etc., by the counterparty. As a result, the Fund may suffer unexpected losses. Following the default or cancellation of a lending agreement, when liquidation procedures are implemented by using the collateral that is set aside in the lending agreement, the procurement cost of buying back the securities can surpass the collateral value, due to price fluctuations in the market. In such cases, the Fund is required to pay the difference, which may cause the Fund to incur losses.
Risks of Discrepancy between the JPX/S&P CAPEX & Human Capital Index and the NAV
The Fund seeks to match the NAV volatility with that of the JPX/S&P CAPEX & Human Capital Index, but it cannot guarantee that movements will be consistent with the Index for the following reasons:
The Fund may be subjected to a market impact when buying or selling individual stocks as it adjusts its portfolio in response to changes in the stocks that comprise the JPX/S&P CAPEX & Human Capital Index and capital changes among corporations. In addition, the Fund will incur various expenses, including trust fees, brokerage commissions, and audit fees.
Dividends may be paid by stocks in the portfolio and fees may be earned for securities lent.
When derivative transactions such as futures are made, there may be disparity between the price movements of such transactions and that of some or all of the constituents of the JPX/S&P CAPEX & Human Capital Index.
Discrepancy between the market prices at which stocks are traded on exchanges and the NAV
The Fund is listed on the Tokyo Stock Exchange and the units are traded on that exchange. The market price of the units is affected primarily by the size of demand for the Fund, its performance, and how attractive it is to investors in comparison with their other investments. It is not possible to predict whether the units will sell in the market above or below the NAV.
* Factors that contribute to NAV fluctuations are not limited to those listed above.
Additional Considerations
The provision stipulated in Article 37-6 of the Financial Instruments and Exchange Act ("cooling-off period") is not applicable to Fund transactions.
This Fund differs from deposits or insurance policies in that it is not protected by the Deposit Insurance Corporation of Japan or the Policyholders Protection Corporation of Japan. Furthermore, units purchased from registered financial institutions, such as banks, are exempted from compensation by the Japan Investor Protection Fund.
Risk Management System
The departments in charge of risk management and compliance perform the evaluation and analysis of risks and performance, risk management, and monitoring of the status of compliance with laws, and are independent from fund management departments.
To maintain an appropriate management system, the departments in charge of risk management and compliance will report and make proposals to the committees associated with risk management and compliance, and instruct fund management departments to take corrective actions as necessary.
* The system described above is as of the end of February 2016, and may be subject to change in the future.