Established Asian bonds manager
Nikko AM has a long history of managing Asian fixed income. Having established our first Asian bond strategy in 1982, we are one of the pioneers in the Asian fixed income space. Our long standing capabilities have reaped us multiple industry awards and accolades over the years. Our firm has been recognised for its potential for investors within the region, and consistently won awards between 2015 to 2019 from the Asset Benchmark Research Awards. Our team also boasts several portfolio managers who have received industry recognition for their astute investing.
Experienced team
We have one of the largest dedicated Asian Fixed Income teams, with 14 investment professionals averaging 14 years of experience in Asian markets. Members of the team come from multi-national backgrounds, and this allows us to understand and converse in local languages and diverse cultures within the region. Our portfolio managers and research analysts have honed a strong appreciation for the idiosyncratic characteristics of individual countries and sectors while successfully navigating our funds through various market cycles.
Clear and focused investment philosophy
Our investment philosophy is premised on our belief that markets are dynamic, often prone to economic "noise" and inefficiencies. Outperformance can be achieved through a systematic application of proprietary top-down macro and bottom-up credit research.
Our three key principles:
Capital preservation: Identifying, understanding and minimising risk through a rigorous and systematic due diligence and research process
Investing for the long-term: Identifying medium to long-term fundamentally-driven trends
Value discipline: Seeking long-term value and exploiting short to medium-term mispricing opportunities
Differentiated and rigorous process
Our proprietary Fundamental, Valuation and Technical (FVT) Framework, which is applied to our top-down and bottom-up research, is the backbone for which we construct high conviction portfolios that seek to deliver returns through multiple sources of alpha. This time-honed credit research and independent internal credit rating (ICR) model is where we differentiate ourselves.
The FVT Framework
Leveraging on our FVT Framework for analysis of credit, rates and FX, the outcome is a high-conviction portfolio consisting of the managers' best investment ideas. With regards to our robust credit research, the most important output from our team of dedicated credit analysts is the ICR, which expands the opportunity set to unrated issuers.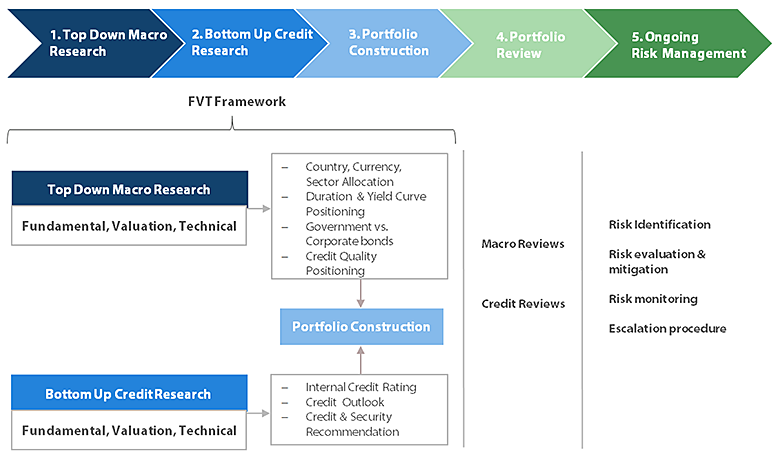 Specialists across the Asian fixed income market