Investment Philosophy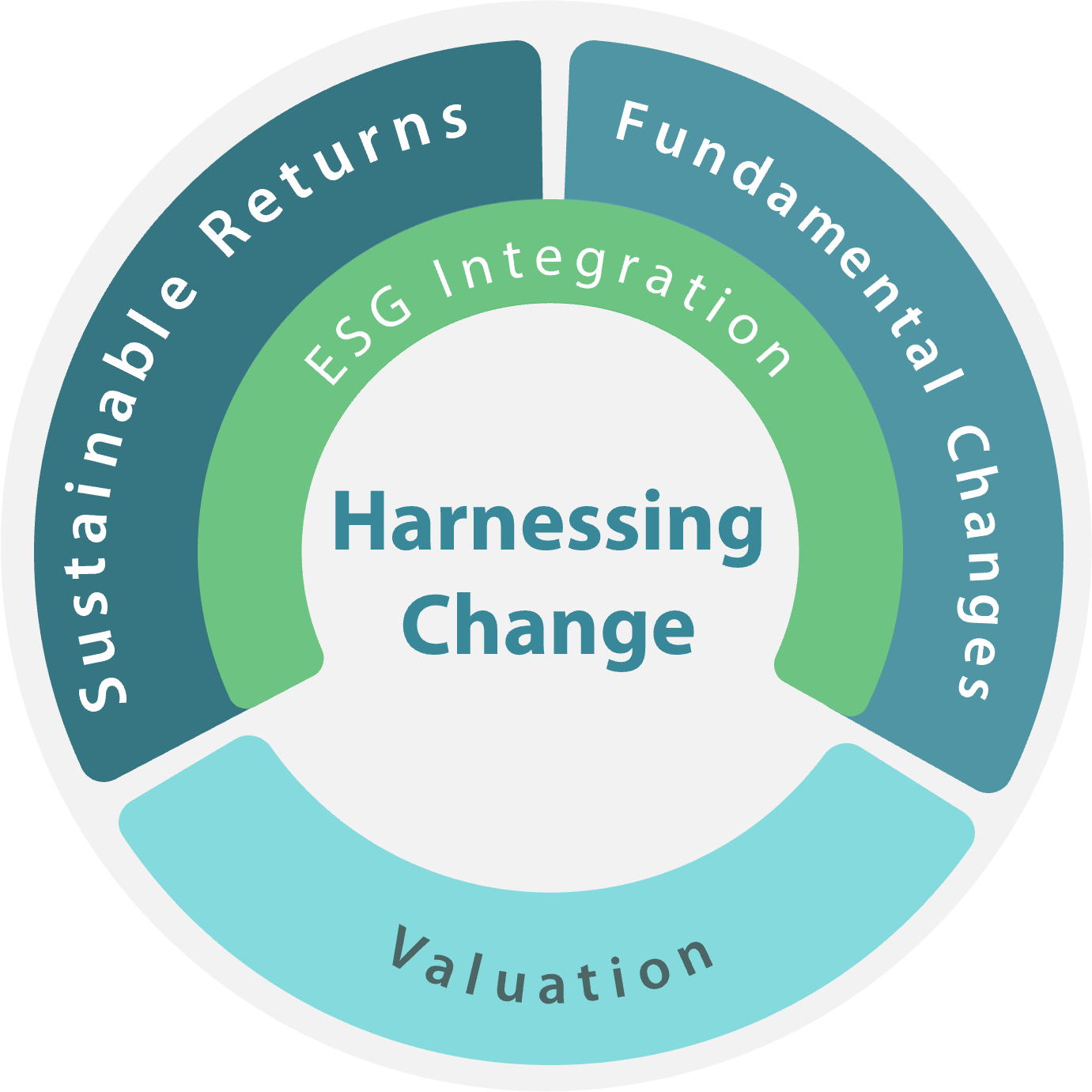 We seek to identify undervalued companies capable of achieving high sustainable returns and benefiting from positive fundamental change to capture superior returns in Asia; one of the most dynamic and fast changing regions in the world.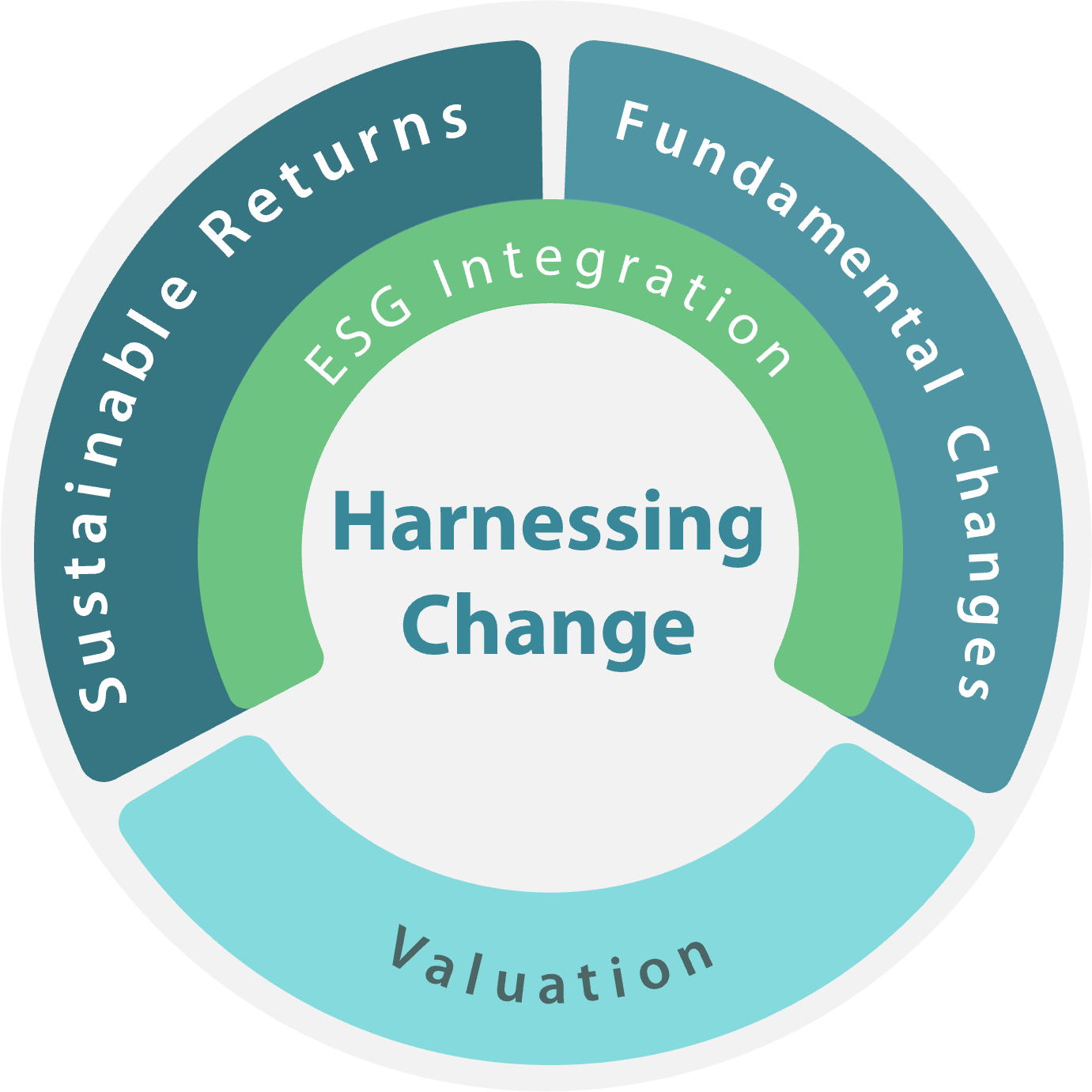 We believe that strong or improving Environmental, Social, and Governance (ESG) performance is essential for generating higher sustainable returns. We term the above as "Harvesting Growth, Harnessing Change". We aim to have a balanced portfolio with the largest representation of stocks with undervalued high sustainable returns and positive fundamental change, with ESG Risks and Returns analysis integrated throughout.
Asia – The Continent of Great Opportunity
A dynamic market transforming itself at an unprecedented speed. Capturing value from diverse Asian opportunities requires deep understanding and cultural awareness.

Growing opportunity set of potential investments in Asia, there are 50% more listed equities in Asia ex Japan today versus 10 years ago (>30,000). The combined US and EU equity listings have shrunk over that time1

1 billion Asians set to join middle class by 2030, while it is set to shrink versus shrinking in Japan, Germany and others2

China poised to become the world's largest economy by 2030, India set to become the 2nd largest economy by 20503

Supplier to the world, increasingly cutting edge
[> 85% of global Semiconductor Foundry4 | > 85% Electric Vehicle Battery5 | > 85% Solar (Polys, Modules, Cells)6]
Unique and Dynamic Team
A unique and dynamic market requires a team approach of the same character.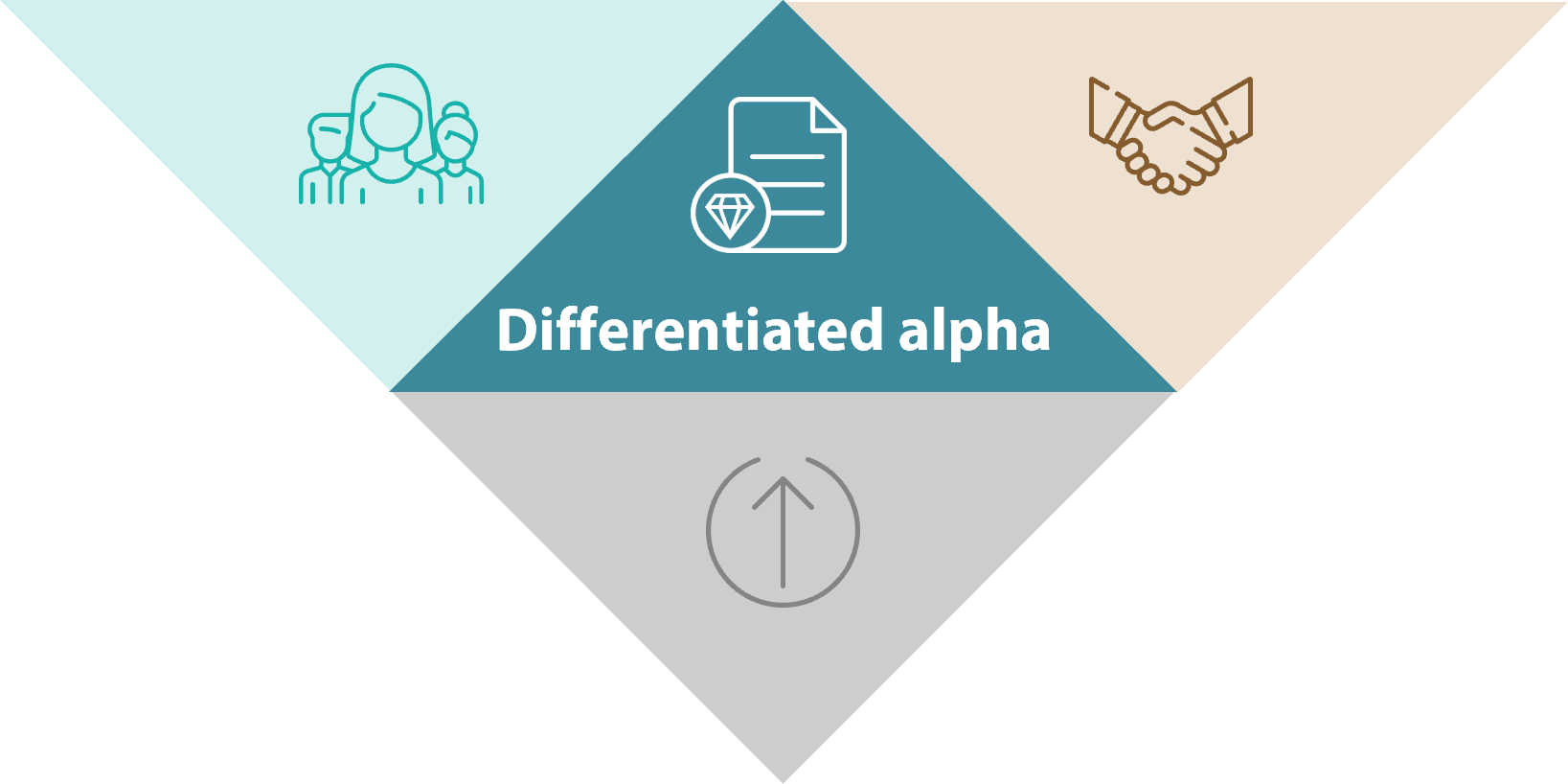 Diversity of perspectives
We rely on the individual creativity and unique backgrounds of our team to produce varied, often unexpected insights into these sizable, fast-paced markets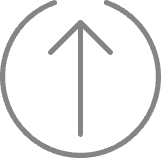 Bottom-up approach
Relying on input from experts on the ground to generate the building blocks of the best investment ideas

Team mentality & mutual respect
An environment of trust, cohesion, and respect is the foundation for challenging, and subsequently integrating individual insights into a broader, coherent picture
The Asian Equity Team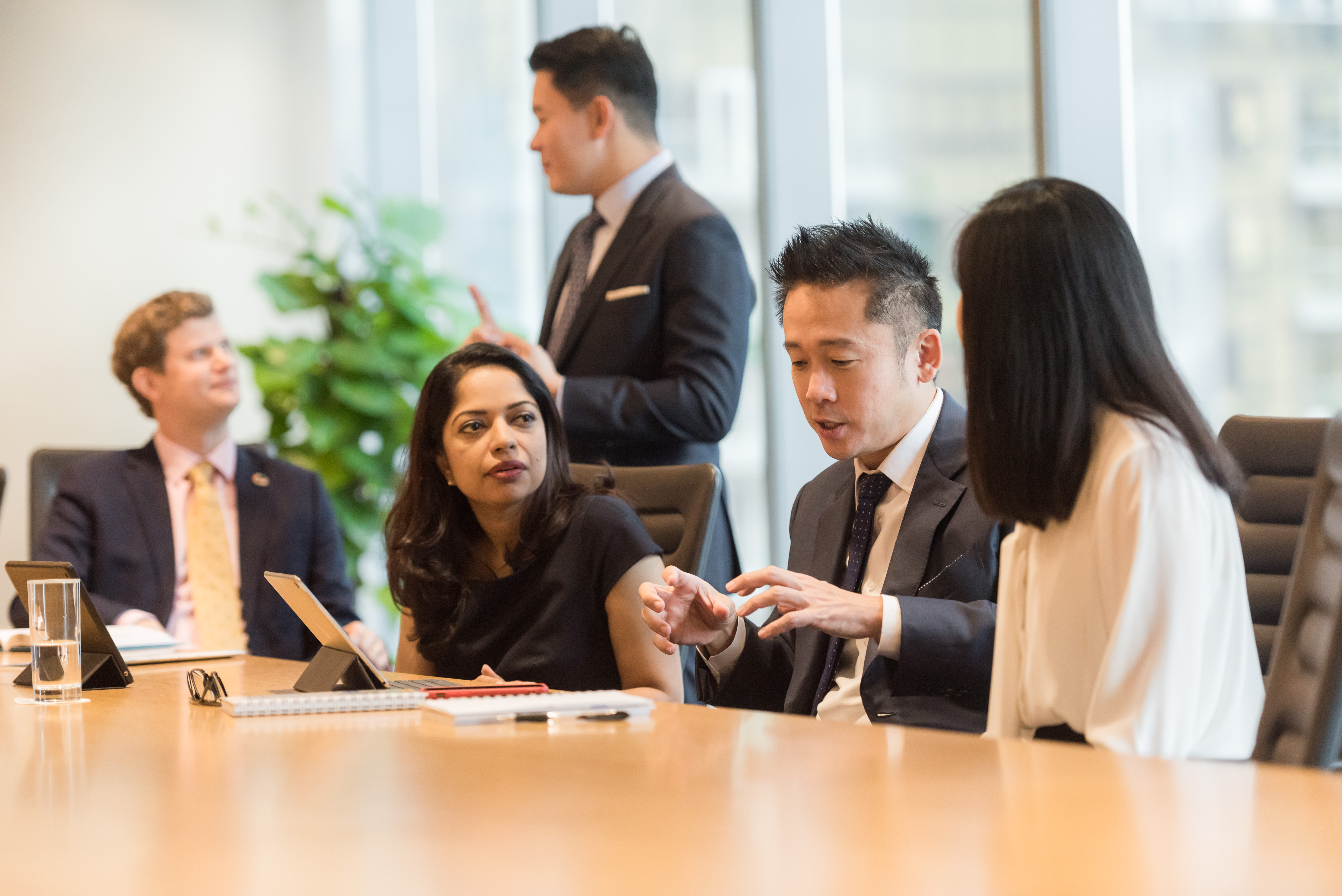 Over 20 investment professionals based in Singapore, Hong Kong and Shenzhen
19 years of average industry experience
10 primary nationalities
All major Asian languages spoken
Diversity across cognition, culture and demographics
Mutual Respect, the foundation of our collaboration
Investment Process
Tailored for the complexities of Asian markets and fundamental change.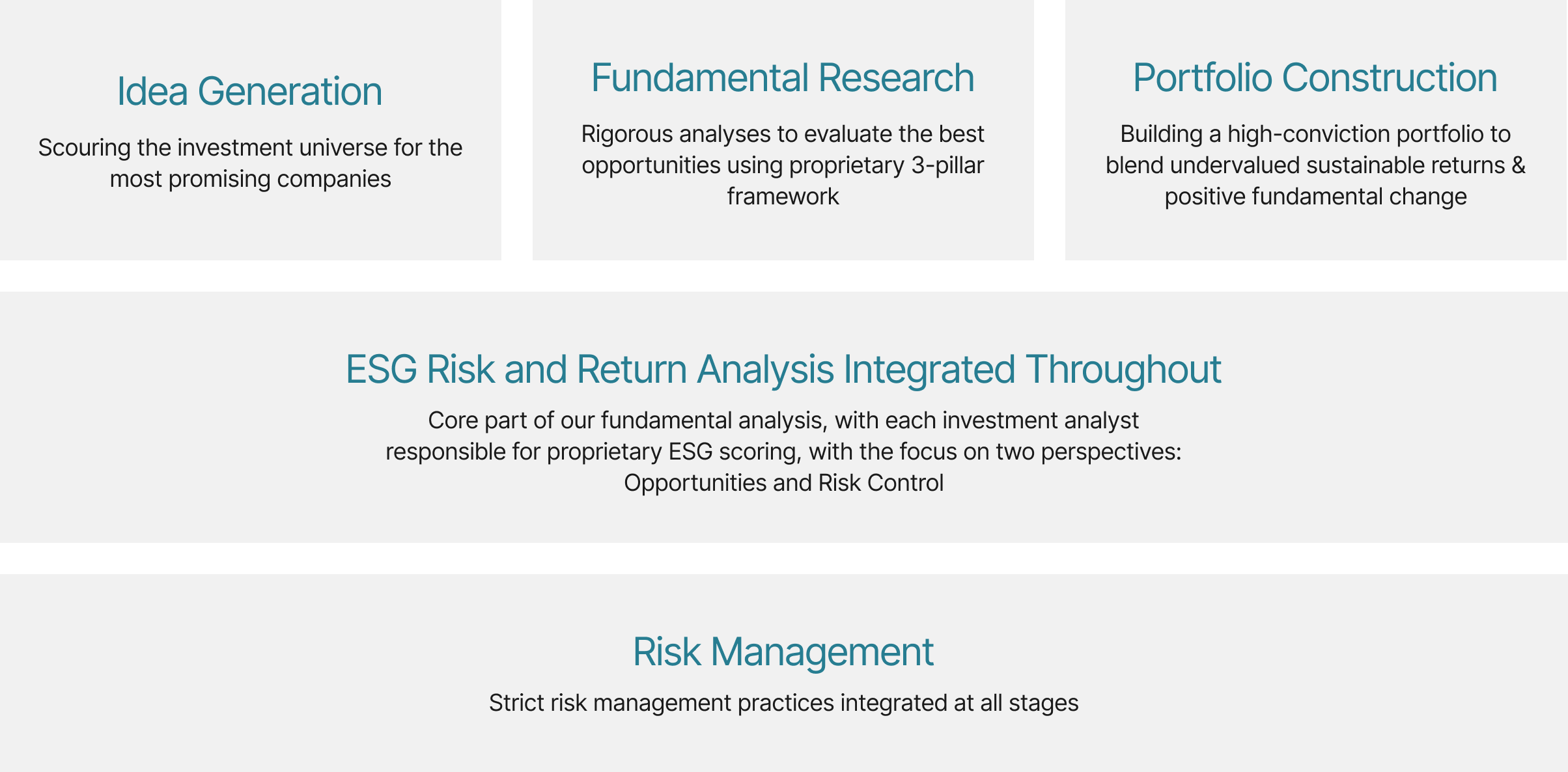 Idea Generation
Scouring the investment universe for the most promising companies
Fundamental Research
Rigorous analyses to evaluate the best opportunities using proprietary 3-pillar framework
Portfolio Construction
Building a high-conviction portfolio to blend undervalued sustainable returns & positive fundamental change
ESG Risk and Return Analysis Integrated Throughout
Core part of our fundamental analysis, with each investment analyst responsible for proprietary ESG scoring, with the focus on two perspectives: Opportunities and Risk Control
Risk Management
Strict risk management practices integrated at all stages
ESG Implementation
ESG Risk and return analysis is integrated across the entire investment process, supported with the following ESG beliefs:
Strong or improving ESG is essential for higher sustainable returns
Focus on what's material for Asia
Investment analyst led assessment works best
Key Characteristics

Concentrated exposure to a dynamic market transforming itself at an unprecedented speed

Finding the best companies characterized by undervalued positive fundamental change & sustainable returns

A strong institutional investment process tailored for the complexities of the Asian markets

ESG risk and opportunity analysis integrated across investment process

Diversity of backgrounds & perspectives, and local partnerships to generate the best investment ideas