Our Philosophy
On the US investment team, we believe that the three core factors behind sustainable, responsible investing — environmental, social, and governance (ESG) — are inherent to long-term value creation. We view ESG analysis as both return-enhancing and risk-mitigating, so incorporating this appropriately in the investment process (when ESG factors are material to investor value) is consistent with our fiduciary duty. Sustainability means managing the challenges and risks facing all organisations to meet the needs of the present, without compromising future generations. We firmly believe it is our responsibility to consider ESG factors when making investment decisions on behalf of our clients.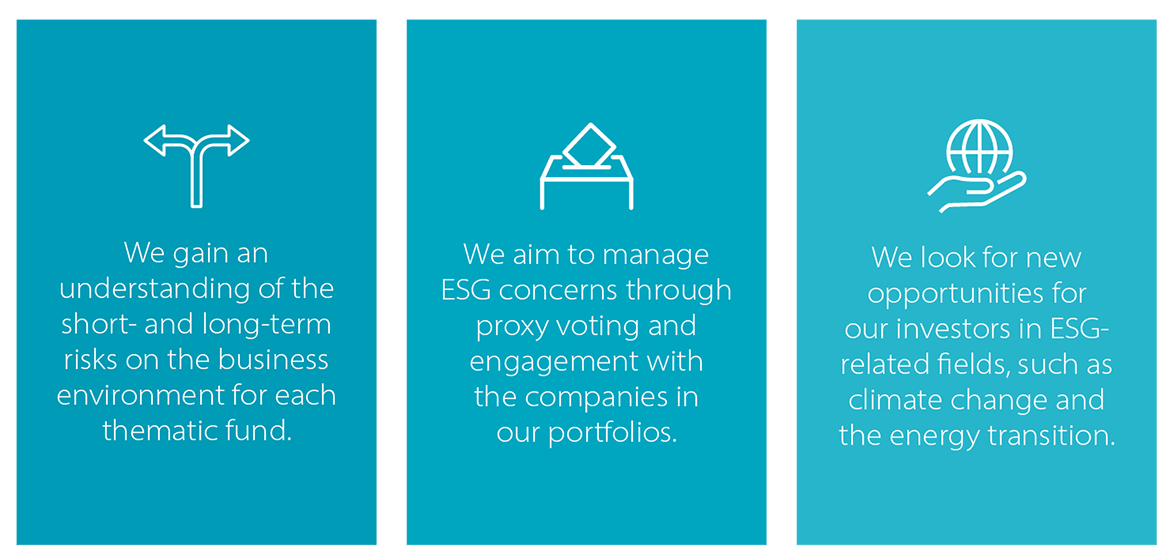 ESG Implementation
Implementation of this philosophy takes three forms.
First, the US investment team works with sub-advisors for non-discretionary investment advice to understand the short- and long-term risks on the business environment for each thematic fund, in order to help us make informed strategic decisions. Each sub-advisor has their own dedicated approach to analysing companies based on ESG. During monthly and ad hoc conversations with our sub-advisors, we discuss the potential risks to the investment strategies as well as the opportunities that may arise from the changing environment. The use of third-party scoring metrics helps us to identify potential risks in the portfolios.
Second, ESG oversight is implemented through proxy voting and engagement with companies in the portfolios. The investment team executes proxy ballot votes that decide board oversight, executive compensation, disclosures, and company policies to strengthen company governance. When engaging with each of these companies, the investment team focuses on their approach to managing ESG concerns.
Third, we look for opportunities for our investors to benefit by helping to create new investment ideas. Recently, we have made it our aim to generate alpha by identifying the risks and opportunities that surround climate change and the energy transition.
Back to Sustainability