Investment Philosophy
The Japan Focus Equity Strategy is a high conviction Japanese equity strategy with no market capitalisation bias. It is built on the firm belief that stock selection should be carried out within the framework of long-term structural trends. Superior performance can be achieved by investing in companies that benefit from these structural trends, and have strong growth potential and/or a policy that supports shareholder returns.
Focus on long-term structural trends
A key feature of the strategy is its focus on long-term structural trends. The strategy starts by identifying lasting, secular trends of at least 3 to 5 years, and seeks companies that may benefit from these trends. By maintaining this longer term view, the strategy attempts to capture investment opportunities that near-sighted investors fail to see. The portfolio is diversified across these identified trends. Many of the portfolio stocks are expected to benefit from more than one long-term structural trend.
Established investment team with robust research platform
Nikko Asset Management benefits from the abundance of local expertise. Lead Portfolio Manager Yuki Watanabe, with over 19 years of experience in investment management, is based in Japan and fully understands the idiosyncratic risks of individual companies and sectors within Japan. The investment team places an emphasis on direct contact with company management. Nikko Asset Management's long-established reputation as one of the largest asset managers in Japan helps facilitate the dialogue with these companies.
The portfolio manager is supported by Nikko Asset Management's robust equity research platform. The centralised research effort, consisting of 14 experienced analysts, has strength across all sectors, company sizes and styles. In addition, the team is supported by a strategist with over 30 years of industry experience. The portfolio manager has formal and informal modes of communication with other portfolio managers within the Japanese Equity Fund Management Department. He can also draw on the insights of portfolio managers and analysts within the Nikko Asset Management network, located in offices around the globe.
Key Characteristics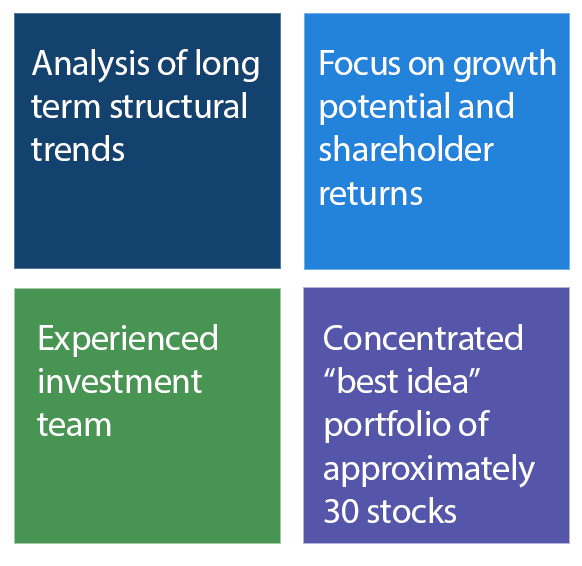 Analysis of Structural Trends
The starting point of idea generation is the analysis of long-term, structural trends. The portfolio manager formulates a view that these trends will last at least 3 to 5 years and seeks to identify companies that benefit from them.
The Portfolio Manager develops these ideas based upon interactions with the other Portfolio Managers across the Nikko Asset Management group, proprietary research produced by Nikko Asset Management's Equity Research Group and also external research including broker input, as well as direct interaction with company management.
Some examples of identified structural trends are listed below:
Shift in demand to higher value-add products
Rising purchasing power in emerging countries
Change in demographics
Change in consumption patterns
Growth in infrastructure demand
Improving corporate governance in Japan
Stock Analysis: Stock Evaluation Criteria
Companies that are expected to benefit from the identified structural trends undergo further fundamental evaluation. A company must possess at least one of the two following criteria to be considered for investment in the portfolio:
1. Potential for growth
Operating profits reaching a new high over the next 3 to 5 years
Growth steadily outperforming the market over the next 3 to 5 years
Earnings growth accelerating over the next 12 months
2. Potential to enhance shareholder returns
Management policies supportive of shareholder return enhancement
Investment Process