Japanese equities rose in November
The Japanese equity market rose in November, with the TOPIX (w/dividends) climbing 1.30% on-month and the Nikkei 225 (w/dividends) rising 1.98%. Equities rose in the early part of the month on strong US economic indicators and easing political uncertainty after the US midterm election results largely matched expectations. However, from mid-month, concerns over a slowdown in worldwide demand for IT equipment grew as smartphone parts makers downgraded their earnings forecasts and a major US semiconductor firm released cautious guidance, sending stocks lower. Nevertheless, the market finished the month on an uptrend as a planned US-China summit lifted expectations that trade friction between the countries would ease.
Of the 33 TSE sectors, 22 sectors including Warehousing & Harbour Transportation, Textiles & Apparels, and Land Transportation rose during the month, while 11 sectors such as Oil and Coal Products, Pulp and & Paper, and Mining dropped.
Exhibit 1: Major Indices (Last Month and Historic Changes)

Source: Bloomberg, as at 30 November 2018
Exhibit 2: Nikkei 225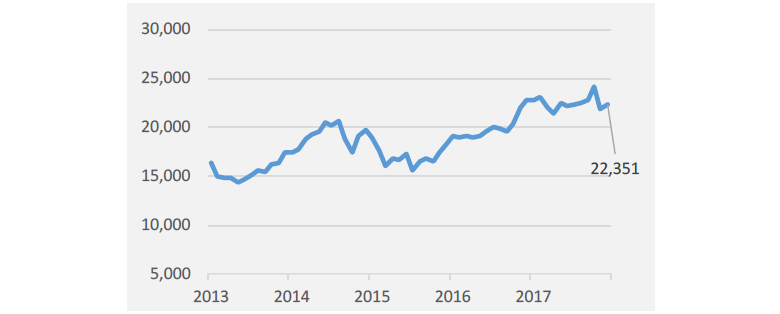 Source: Bloomberg, as at 30 November 2018
The Ghosn Effect
Japanese stocks will be unaffected in the long run by the arrest of Nissan's former president Carlos Ghosn. In fact, we hope that Japanese companies will think more about disclosure of executive compensation. Nissan might share much of the blame for allowing poor internal governance systems to persist. The automaker should then aim to become a champion for major improvements in executive-pay disclosure.
Compensation is not as simple as saying that it will increase as a company's profit goes up. Management should be rewarded for running a company better than other peers in the same industry. If the company is in danger, it may be correct to increase the CEO's salary even if profit falls on cost cuts. It's a case-by-case basis. Ghosn officially earned around $6.5 million for his role in the company's last fiscal year, a small fraction of Nissan's $6.8 billion net profit.
In the case of Nissan, having the Board of Directors prepare a mechanism to decide the remuneration by understanding the current management issues in advance by everyone is important. The problems had more to do with the board itself. Ghosn was responsible for setting directors' pay, including his own. If company directors are taking advantage of poor oversight to avoid disclosure of their full pay, it could qualify the perception that Japanese corporate leaders are much worse paid than their Western counterparts. Investors should check the often-inadequate compensation disclosure that Japanese companies provide.
Looking to 2019
BoJ policies that will keep long-term JGB yields low and stable over the consumption tax hike in October 2019 are likely to remain. We expect single-digit earnings growth of TOPIX for FY 2019 on the other hand, which is likely to lead to positive equity return. In the first half, we expect good returns from exporters backed by easing trade tension between China and US, as well as expanding export with strong global demand. In the second half, the spillover to the domestic economy should drive better performance for financials expecting inflation in 2020 after the tax hike.
A consumption tax hike may be a source of uncertainty. While it will be well supported by government measures such as subsidy for childcare, an increase in savings may have a negative impact such as weaker consumer confidence. We look to defensive sectors such as utility and/or healthcare, or an asset class like bonds.
Exhibit 3: Major Market Indices
TOPIX


JGB Yield


JPY/USD


Japan Equity Net Purchase from Overseas (JPY bil.)


Source: Bloomberg, as at 30 November 2018
Exhibit 4: Major Index Performance, Indicators, and Valuation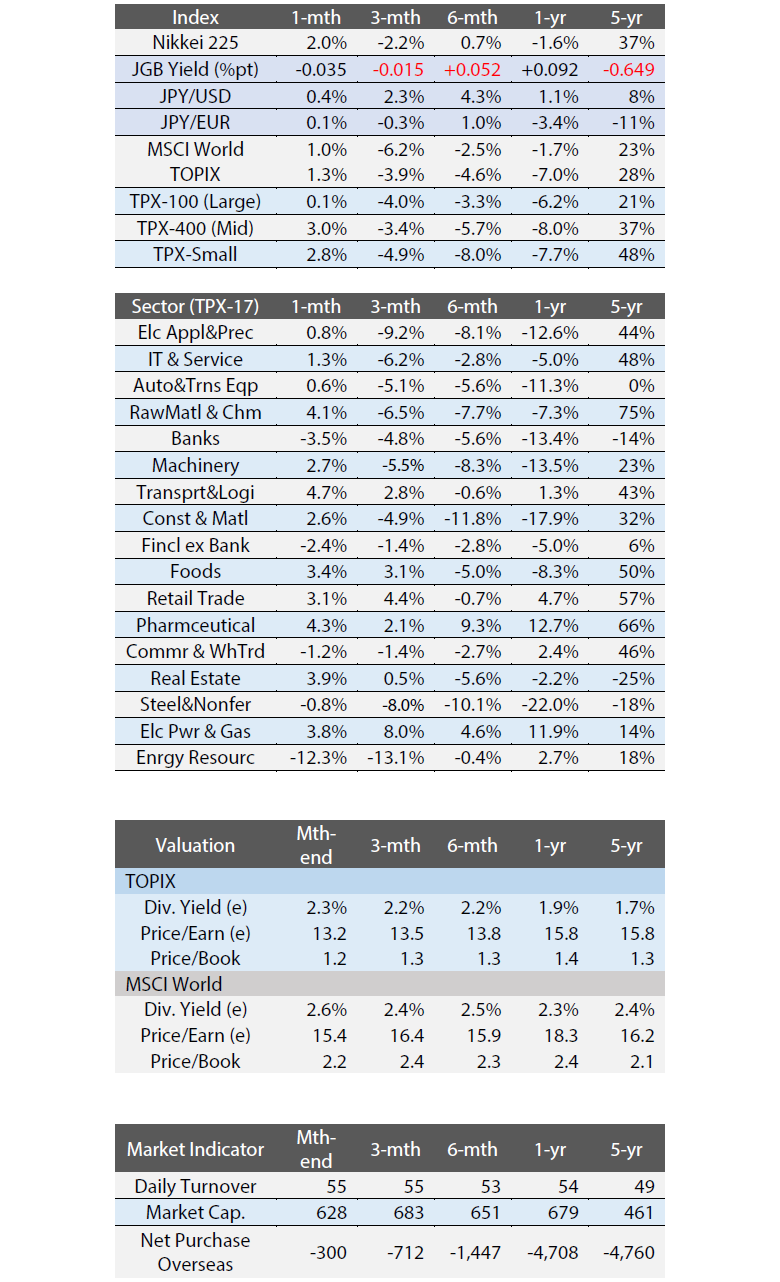 Source: Bloomberg, as at 30 November 2018
(e) stands for consensus estimates by Bloomberg.
Turnover and market cap in JPY tril.
Net Purchase (JPY bil.) from Overseas is cumulative monthly.