14 Jan, 2015 — Amendment:
USD conversion of GPIF domestic equity market infusion re-calculated in "Japan's 'Halloween fireworks' should remove doubt about Abenomics" section
---
The term 'Asian Century', which suggests the dominant role that Asia is likely to play in the 21st century, continues to gain acceptance with the rapid growth of the region, particularly China and India. Many have interpreted it as meaning the demise of US hegemony and China's emergence as the centre of rising Asian influence. In terms of investing, we believe that the global economic and political centre of gravity in the coming decade will pivot around the Pacific Arc, which stretches from the US to Japan and China. While the US will play the usual role of economic and financial locomotive pulling the rest of world along with it, in our view, Japan and China emerge as the most worthwhile destinations of investment capital. The coming decade should see the breakdown of trade and economic barriers that give further impetus to Asia-Pacific's development.
In this article, we explore the investment theses on China and Japan. Both countries are implementing substantial reforms that, although drawn from necessity, are being executed at lightning speed compared with the ponderous policy-making we are seeing in Europe as it attempts to avoid falling into a deflationary slump. The dynamism of the Pacific Arc forms the foundation for the distinct speed at which we expect economies in the region to grow.
'Old Asia' to 'New Asia': Don't look backwards
Asia is evolving rapidly, which has implications for investors globally. It should no longer be viewed as just a cheap manufacturing hub but a region with high value-added industries catering to an increasingly wealthy middle class. With over half of the world's population and the fastest growing middle class, Asia remains under-represented in global indices. With low equity valuations and substantial structural reforms occurring throughout the region, investors seem to be disregarding the potential upside.
Asia ex-Japan accounts for 27% of global GDP and yet only represents 8% of global indices, while China (the second-largest economy in the world) accounts for almost 16% of global GDP but only 2.5% of global indices. Japan experienced a similar under-representation in the 1970s and it took some time for indices to catch up with its growth. Asia's rapidly developing economy can be seen in the changes in its investment landscape. The composition of the Asia ex-Japan indices have changed dramatically with sectors such as real estate reducing in importance, while new growth sectors such as Information Technology have quadrupled over the past 15 years. A related Nikko AM article, "Know your investment manager: They may not be as passive or active as you think" provides further information on the changing composition of Asian and Emerging Market indices.
Global investors have been conditioned to be disappointed by Japan and China due to consecutive years of falling equity prices. However, we believe the current low valuation levels have already discounted much of the well-publicised challenges for these two markets. The CSI 300, an index of 300 stocks listed on the Shanghai and Shenzhen stock exchanges, has underperformed in most years between 2008 and 2013 and remains around 60% below its all-time high. In Japan, asset prices collapsed in 1992 and suffered two lost decades (see chart 1). It is only recently that they have begun to show signs of recovery. However, equity markets look forward and we see many reasons to be optimistic over the next few years with both markets picking up.
Chart 1: Japan's fall in value of land and equity value since the 1989 bubble burst
Source: CLSA. Reproduced with permission
The recent outperformance of both markets may be partly attributable to investors' acknowledgement of the substantial political reforms being carried out by the Japanese and Chinese governments. Japanese Prime Minister Shinzo Abe and Chinese president Xi Jinping are strong leaders and both enjoy popular support for their structural reform programmes. The wide-ranging nature of these reforms and the speed at which they are being executed contrast starkly with the hesitancy we are seeing in Europe. The measures Abe and Xi are currently undertaking will transform the economic and financial landscape of both countries, ensuring not just growth but high quality growth.
Don't just focus on nominal China growth, but on quality of growth
The world appears to be hooked on China's 7+% GDP growth and showing deep concern over its slowdown over the past few years. We are not overly concerned about slowing GDP growth and think it will settle into the 4%-6% range over the next decade. Although slowing growth may make for good headlines, it is normal for it to slow at the stage of economic development that China has reached. What is more important is the quality of growth and that companies in China are improving return on equity (ROE) from low levels.
GDP growth offers opportunities to profit from China's old growth themes, such as infrastructure, urbanisation and commodities. However, China is rebalancing towards a more consumption-led economy. A focus on GDP growth alone means that investors will miss out on the new chapter in the Chinese story, which involves climbing up the value chain in industrialisation, as well as profiting from the middle class/aging society's spending and consumption story. As 'Old Asia' evolves into 'New Asia', investors need to consider where growth will come from in the future. Taking into consideration demographics, wage growth and a burgeoning middle class, we have identified four key themes for tomorrow's Asia – Healthcare, Tourism, Insurance and the Environment – that will drive equity market re-ratings. Our Head of Asian Equities, Peter Sartori, has produced a paper titled "Identifying the key themes for tomorrow's Asia" which further explores the importance of these sectors.
The emergence of 'New Asia' is starting to be seen in the differing performance of China's stock markets. The biggest market is the Shanghai Stock Exchange, which is dominated by larger state-owned enterprises (SOEs), while the smaller Shenzhen Stock Exchange contains a lot of smaller, privately owned, companies, which operate in largely new-economy sectors, such as healthcare, technology and consumer stocks. While the CSI 300 Index and Shanghai Composite Index are down more than 50% from the all-time peak, the smaller Shenzhen Stock Exchange Composite Index has almost regained all its lost ground, trading at 87% of its all-time peak (see chart 2).
Shenzhen is trading at a near all-time high relative to Shanghai at the moment. The stock prices of these neweconomy companies are already reflecting the fact that the market believes that China's future lies in the more dynamic sectors of its economy and not its past as represented by the SOE giants of the CSI 300 and Shanghai Composite. The difference in the performance of these two indices highlights the benefit of looking towards what China is becoming and not what it has been.
Chart 2: Tale of two cities: Shanghai Composite Index vs. Shenzhen Composite Index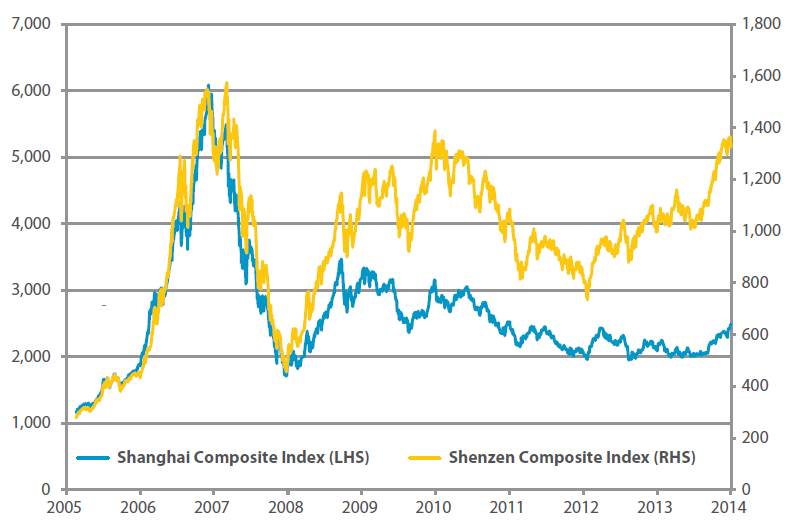 Source: Bloomberg and Nikko AM
This new chapter is also being reflected in rapid growth in areas such as the Internet and mobile. Chinese internet giants such as Tencent and Alibaba rival American counterparts such Facebook, Amazon and eBay in terms of market capitalisation. China is quietly leapfrogging developed economies in terms of its application of new technology and although its Internet economy is still at an early stage of long-term growth, it represents an attractive long-term investment opportunity. In the last 12 months, the proportion of China's population accessing the Internet on their mobiles has grown to 38% of the population, exceeding the penetration rate in the US. In terms of monetising that usage, mobile e-commerce is growing swiftly in China. Chinese online retail penetration surpassed the US in 2012 and, at the current rate of growth, it is likely to be at double the US level in the next six years.
China is making bold and decisive reforms to rebalance its economy and with strong political stability, the government has the popularity to continue executing those reforms despite slowing growth. This will provide a robust foundation for making real changes in the economy and SOE sector. SOE reform in China is not new. For such a large economy, where the state plays a significant role in capital allocation decisions, reform is the political process to revitalise the system and restructure the economy for a new phase of development. China's challenges lie in the dominant role played by the SOEs in all key sectors of the economy. During the last wave of reforms, Beijing cleaned up its banks in early 2000 and implemented non-tradable shares reforms, which heralded the 2006-2007 bull market. We believe the best way to invest in China is to avoid 'GDP beta' and focus on bottom-up stock picking, identifying companies that are catering to China's new areas of economic growth and escalating middle class consumption.
Japan's 'Halloween fireworks' should remove doubt about Abenomics
Nikko Asset Management has made a strong bullish call on Japan since the early days of Abenomics. In our January 2013 'Evolving Markets' edition, published shortly after Abe's election, we predicted that the equity rally was not a short-term move but a sustainable trend, which was proven to be correct. Over recent months, there has been much speculation in the media that Abenomics is in jeopardy, particularly after the April sales tax hike triggered a sharper-than-expected slowdown in consumption and GDP, dragging down inflation expectations. Changing inflation expectations is the bedrock of Abenomics. Prime Minister Abe & Bank of Japan (BoJ) Governor Kuroda cannot afford to let confidence waver.
Governor Kuroda has yet again shown his "unwavering determination to end deflation", surprising the market on the last day of October by announcing that it would expand quantitative and qualitative easing (QQE) just a few days after the US Federal Reserve put an end to its asset purchases. The BoJ plans to increase the pace of monetary base growth to around JPY 80 trillion per year (an increase of JPY 10-20 trillion per year). This is to be achieved by increasing the BoJ's portfolio of Japanese government bonds (JGBs), as well as increasing its portfolio of ETFs on local equities. In addition, the BoJ announced that the average duration of its JGB purchases will be extended from 7 years to 10 years.
In a parallel announcement, the Government Pension Investment Fund (GPIF) announced guidelines on new asset allocation targets, reducing its holdings of JGBs to 35% (from around 53%) and raising its allocation to domestic and foreign equities to 25% each, from 17.3% and 16%, respectively). Under the new portfolio, equities and bonds must be held on a 50/50 basis. Besides 'going in all-in' with BoJ monetary policy, the GPIF decision to increase its domestic equity allocation represents a USD 11 billion equity market infusion1. If other public pensions follow the GPIF's lead, this will have a very positive effect on the market.
In our view, Kuroda's Halloween day 'fireworks' should dispel any notion that the success of Abenomics is in doubt. With the GPIF announcement and BoJ action, Abe and Kuroda have proven their determination to unshackle the nation from deflation psychology at any cost. Abenomics' first objective is to break the back of deflation via more potent QQE as well as Yen depreciation. With the GPIF taking greater risks on its giant portfolio, this should also stimulate Japanese savers and corporates to move their money into equities and other risky assets to hedge the higher inflation expectation. A critical part of Japan's psychological push is the wealth effect. Rising real estate prices, at least in the cities, after a 20-year downtrend, will also do much to help the cause.
Investors not fully appreciating the scope of Japan's wide-ranging reforms
Some sceptics claim that Abenomics is simply financial gimmickry that won't provide the real, sustainable change in the country's economic competitiveness and growth that is required. This real change in economic growth can only come from the third arrow of reform. The first two arrows of monetary easing and fiscal stimulus break the risk-avoidance psychology from two decades of economic shrinkage, but it is the third arrow that provides the building blocks of sustainable growth.
In our view, although this arrow will take much longer to hit its mark, Abe is determined to ensure that many of the reforms will be effective and lead to increased long-term growth and an improved outlook for the country. Structural reform should open up the economy by making labour and product markets more responsive and loosening immigration restrictions.
Abe has been pushing through structural reforms that make it easier for companies to hire part-time workers, including female and older workers. With the aim of achieving the target of "increasing the share of women in leadership positions to at least 30% by 2020 in all fields in society", numerical targets for female participation were set in the Third Basic Plan for Gender Equality for a wide range of fields, including politics, national and local civil services, private sector, education and research. To achieve this target, the government is improving the availability of childcare, asking firms to report the numbers of female executives in their financial statements and providing subsidies to companies where women play active roles. This initiative has already borne fruit – of the one million new entrants to the workforce in 2013, some 70% were women.
Corporate governance reform is another important element of the third arrow. Abe has promised to cut the corporate tax rate by around 6% at first and then lower. He is focusing on improving corporate governance by mandating independent directors. The government has released guidelines on how institutional investors should monitor companies more effectively. The Stewardship Code, which was introduced in February 2014, encourages shareholders of public companies to engage with management in an effort to enhance shareholder value. Constructive discussions between shareholders and company management are expected to drive companies to place more emphasis on capital efficiency, most notably, ROE. The introduction of the JPX-Nikkei 400 Index also incentivises public companies to raise ROE in order to have their stocks included in the index. The BoJ's additional monetary easing announced at Halloween includes measures to buy JPX-Nikkei 400 Index-linked ETFs for the first time. This will help boost the index value, which should further increase public companies' focus on ROE.
Abe continues to command a sizeable approval rating, testimony to the fact that the Japanese people understand that changes are needed. The corporate sector is already responding positively with stock buybacks, a surge in Japanese dividends and long-needed investment of cash reserves. The labour market is starting to become tighter as women and older workers re-enter the labour force and wages are showing a slight rising trend. Ultimately, Abe is aiming at incremental change across a broad range of sectors that will lead to widespread structural reform and durable and stable growth. We believe he has both the will and the support to ensure the third arrow hits its mark.
Europe's relevance to capital allocators will start to diminish
Europe remains the second-largest economic bloc after the US, but we are bearish on the region over the longer term. While Europe is still home to a very large pool of capital, we believe that over the next decade that pool will start seeing outflows in the search for higher returns elsewhere.
European bond yields are signalling that the old continent has already entered a deflationary cycle. We would argue that the scope and speed of the descent in core sovereign bond yields, particularly German bunds, have played a major part in subduing bond rates globally in 2014, including the US Treasury and Australian government bond curves. The drop in European bond yields is due to the poor state of the Eurozone economy and the general collapse of future inflation expectations, with current inflation running barely above zero. As Japan has learned the hard way over the past two decades, once an economy falls into a deflationary spiral, it takes Herculean policy actions to reverse.
The European Central Bank (ECB) made grave policy errors in 2011 by raising interest rates, which it had to subsequently reverse as the economy faltered. This cost Europe valuable time to jolt the continent from a developing deflationary spiral. Even though ECB President Draghi's "whatever it takes" speech did stop the Euro from disintegrating, the followthrough on those words has been less than convincing. The policy tools available to the ECB appear disappointingly impotent to counter the deflationary trend. The ECB recently cut interest rates to record lows and has said it will buy asset-backed securities and covered bonds. However, Draghi is unlikely to be able to resort to sovereign QE given that Germany is extremely wary of this type of stimulus and its finance minister has recently warned against debt-financed growth. Internal disharmony and political discord within the union is likely to continue to impede the ECB's ability to act.
Another area of concern is demographics. While on the surface, Europe has a larger and more heterogeneous population than Japan, as well as a more flexible immigration policy, it is also experiencing the negative effects of an ageing and shrinking working population.
Although we do not deny that Europe will continue to be an important player in the global economy, we find it a less and less fertile landscape for investing. Currently, investors can find better opportunities elsewhere and we are watching for decisive anti-deflationary policy actions to help determine Europe's relevance in our allocation decision.
Substantial investment opportunities in the Pacific Decade
The Asia-Pacific region is evolving and reforming rapidly, both in terms of developing and developed countries. Asia is a vast continent and requires in-depth research and due diligence to identify the sectors and companies that will see strong growth in the coming decades. Because of this many investors remain wary of investing in the region, but we urge them to lay aside their past preconceptions and look forward, taking a long-term view.
Over the course of the next 10 years, Asia-Pacific, including Japan, will become a default allocation in investor portfolios. With the breakdown of trade and economic barriers, we will see the Pacific Arc, including the US Japan and China, become the most attractive destination for capital allocation decisions. At the recent Asia Pacific Economic Cooperation (APEC) summit in Beijing, Xi Jinping urged members to speed up talks on a trade liberalisation framework in the region. Along with the US-led Trans-Pacific Partnership (TPP) trade agreement, the increased economic integration that will occur via free trade agreements further underscores our view that the region will be the nexus of global growth in years to come.
Footnotes
USD figure adjusted on 14 Jan, 2015.