The fund invests in equity issues adopted for the computation of the FTSE Japan Green Chip 35 Index, and structures its portfolio in accordance with the calculation method of the FTSE Japan Green Chip 35 Index. By maintaining this portfolio in principle, the fund aims to keep the NAV closely linked with the movement of the index.
Net Asset Value and Performance
NAV (per 100 shares):

¥

(As of: )

Net Assets:

million

Day change:

¥

Issued:

shares
Performance Chart
—
Net Asset Value (per Shares) (excluding dividend payment) (¥)
—
FTSE Japan Green Chip 35 Index
NAV value is listed after deducting trust fees.
The copyright, other intellectual property rights, and all other rights pertaining to the FTSE Japan Green Chip 35 Index are the property of FTSE.
The performance, data, etc., noted above are based on past information and neither guarantee nor promise future performance.
Transactions for:
Fund Name
Listed Index Fund FTSE Japan Green Chip 35
Open-ended type/Domestic/Stocks/ETF/Index fund
Listed Exchange
Tokyo Stock Exchange
Issue Code
1347
Targeted Investments
Shares of issues included in the FTSE Japan Green Chip 35 Index
Date Listed
28 April 2009 (launched on 27 April 2009)
Exchange Trading Unit
10 units
Trust period
Unlimited
Computation Period
Every year, 9 Jan - 8 Jul, 9 Jul - 8 Jan
Closing Date
Every year, the 8th day of January and July
Dividends
All revenue from dividends arising from the trust assets will be, in principle, paid as dividends on the last day of the fiscal year after deducting expenses.
*There is no guarantee on the payment or the amount of dividend.
Overview of Fees & Expenses
Trading Fee
Stipulated by the broker. Please contact the broker for details.
Amount to be Retained in Trust Assets
None.
Trust Fee

No more than 0.432% (0.4% excluding taxes) per annum of the daily total NAV of the fund.

Other Fees and Costs

An amount no more than the total amount for the trust period reached by multiplying an annual rate of 0.1% on the fund's daily net asset value.

Expenses for the preparation and distribution of prospectuses, audit costs, expenses for listing of the Fund, as well as royalties for the FTSE Japan Green Chip 35 Index are paid out of the trust assets at the times specified by the Management Company.

Brokerage commissions on securities in the portfolio, interest on advances, lending fee (in case security lending is conducted, the amount obtained by multiplying a lending fee on securities lent by a figure which is a profit for Trust Assets, not exceeding 0.54 (0.5 excluding taxes) (0.5 excluding taxes as of the date of the filling of the securities registration statement), and other fees are paid out of the trust assets each time they are incurred.

*The figures for items such as the rate and maximum amount cannot be provided in advance as they fluctuate in line with investment performance and other factors.
The total amount of expenses of the Fund to be borne by investors varies according to holding length and investment status, and thus cannot be shown.
Major Investment Restrictions
There is no restriction on the investment ratio in stocks.
The Fund invests mainly in shares of the component stocks of the FTSE Japan Green Chip 35 Index. However, this does not apply to shares that are acquired through shareholder allotments.
The Fund does not invest in assets denominated in foreign currencies.
Trustee Companies
Mitsubishi UFJ Trust and Banking Corporation
The FTSE Japan Green Chip 35 Index is comprised from the FTSE Japan All-Cap Index universe, the constituent issues of which have market capitalizations of at least 10 billion yen, are listed on the Tokyo Stock Exchange First Section and Tokyo Stock Exchange Second Section, and have gone through liquidity testing and meet share flotation standards.
The index calculates 35 representative companies which are involved key environmental sectors by organizing issues in the universe in these sectors (including reduction of greenhouse gases, water technologies and pollution control, and waste technologies and resource management).
Environment-related Business Sector
Environmental Focus
Category
Greenhouse Gas Reduction
Next-generation Auto Industry
Rail
LED
OLED
Alternative Energy
Water Issues
Water Resources
Waste Disposal
Waste Disposal
Resource Recycling
Resource Recycling
The calculation method uses the closing price as of December 30, 2005 as the standard date, assigns a value of 5,000 for the flotation-adjusted market capitalization, and indexes subsequent flotation-adjusted market capitalization.
Index continuity is preserved by adjusting market capitalization to avoid the impact on fluctuations in market capitalization of paid-in capital increases, new share listings, delisting, and other factors not originating in market conditions.

The FTSE Japan Green Chip 35 Index may have a higher volatility than regular stock price indexes due in part to the limited number of issues incorporated.
Copyright and other aspects of the FTSE Japan Green Chip 35 Index
Further Information
Japan Exchange Group (JPX)
Listed ETF Prices

To see the Listed ETF Prices, please follow this link and click "Display of stock price".
FTSE Group
Japan Exchange Group publishes summaries and lists of the ETFs, as well as other valuable information on their website.
FTSE International Limited ("FTSE")© FTSE 2009
"FTSE" and "FTSE®" are registered trademarks of the London Stock Exchange Plc and The Financial Times Limited, used under license. Nikko Asset Management (Nikko AM) uses "FTSE Japan Green Chip 35 Index" (hereinafter "the Index") under license of FTSE. FTSE indexes are all trademarks of FTSE, and the calculation, publication of index values, usage, and all other rights pertaining to the Index belong either to FTSE or any license provider thereof. FTSE may change the computation or publication method or suspend publication of Index values. FTSE makes no guarantee or expression regarding results to be obtained by using the Index. FTSE does not guarantee the accuracy or completeness of Index values or data included therein. FTSE does not take responsibility for any error, delay, or interruption in the computation or publication of Index values. All data provided by FTSE is provided only for reference purposes. Neither FTSE nor any license provider thereof takes responsibility for any error, lack, or fault in FTSE indexes or their basic data.
FTSE does not support recommend, or promote the Listed Index Fund FTSE Japan Green Chip 35 (hereinafter "the Fund"). FTSE makes no expression, guarantee, or condition on the suitability of investment in this product. This Fund is not supported, guaranteed, distributed, or promoted by FTSE or any license provider thereof. FTSE bears no responsibility for making decisions concerning the timing and price of the sale of this product, nor does it make decisions concerning, or have any involvement in, the method applied to converting this product into cash, or that of its computation. FTSE assumes no obligation regarding, nor does it take any responsibility for management, marketing, or trading of this product whatsoever. FTSE assumes no obligation to give explanations of the Fund or investment advice to purchasers of the Fund or the general public. FTSE takes no responsibility for any losses arising from the issuance or buying or selling of the Fund. FTSE makes not guarantee of the accuracy or completeness of the calculation or basic data of the Index. FTSE takes no responsibility for any error, lack, or fault included in the Index. FTSE makes no explicit or implicit guarantee whatsoever of the results arising from use of the Index or data incorporated therein on Nikko Asset Management Co., Ltd., owners of the Fund, or any other persons or organizations. FTSE does not make any guarantee, explicit or implicit, of merchantability or suitability of the Index or the data contained therein. Even if the possibility of a specific punitive regulation, indirect or consequential damage (including loss of profits) is supposedly noticed in advance, FTSE does not take responsibility for these circumstances.
A unit stock is a unit in a stock basket that an investor applying for an acquisition through addition contributes to. A unit stock is also a unit in a stock basket that an investor who applies for an exchange receives in trade for a beneficial interest.
This Fund can be applied for as a direct addition and exchange at Authorised Participants in addition to the Tokyo Stock Exchange. In this case, "unit stock" is referred to as a unit. When applying as a direct addition and exchange, please keep in mind that we cannot accept your application on the following dates:
Authorized Participants
SMBC Nikko Securities Inc.
ABN AMRO Clearing Tokyo Co., Ltd.
BNP Paribas Securities Japan Ltd.
Citigroup Global Markets Japan Inc.
Credit Suisse Securities (Japan) Limited
Daiwa Securities Co. Ltd.
Goldman Sachs (Japan) Co., Ltd.
Merrill Lynch Japan Securities Co., Ltd.
Mizuho Securities Co., Ltd.
Morgan Stanley MUFG Securities Co., Ltd.
Nomura Securities Co., Ltd.
Daily Creation and redemption are based on ETF's NAV calculated in early evening. Confirm non-tradable days by referring to trading calendar on our official homepage. Basket for creation is continually-updated on our official homepage.
Basically sell/buy at last price of T day's market.
The flow chart below is showing the creation/redemption process for Nikko AM ETFs. Please note that transactions cannot be processed for days on which applications are not accepted.
Creation Flow for In-kind Creation/Redemption Type ETFs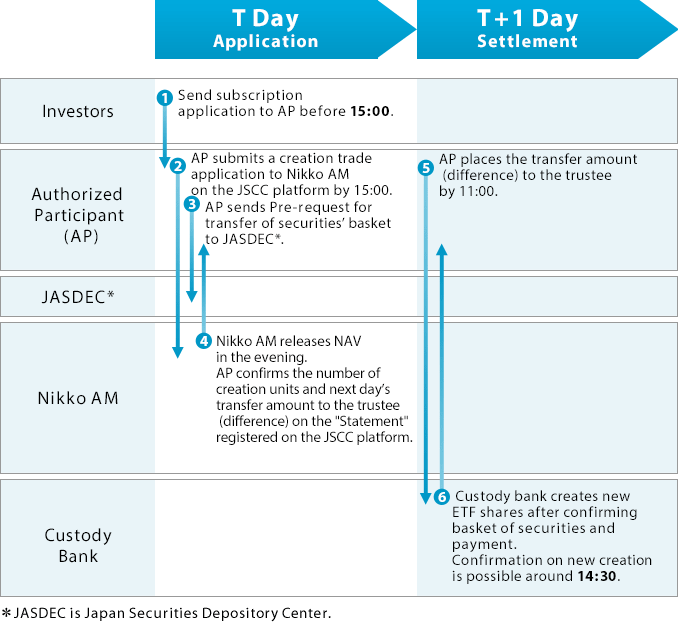 Essential Considerations
Please secure the basket for creation ETF when making application.
We recommend you to take measures like borrowing stocks in order to secure the basket for settlement for ETF creation.
Redemption flow for in-kind Creation/Redemption Type ETFs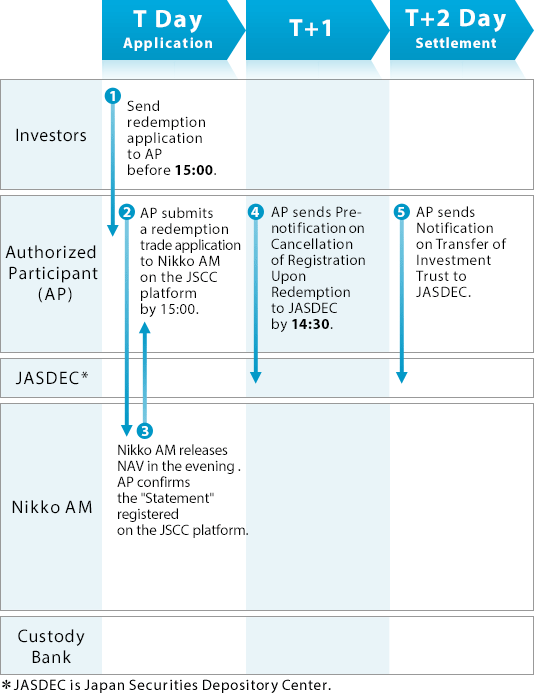 Investors are not guaranteed the investment principal that they commit. Investors may incur a loss and the value of their investment principal may fall below par as the result of a decline in market price or NAV. All profits and losses arising from investments in the Fund belong to the investors (beneficiaries). This fund is different from saving deposit.
The Fund invests primarily in stocks. The NAV of the Fund may fall and investors may suffer a loss due to a decline in stock prices or deterioration in the financial conditions and business performance of an equity issuer.
Major risks are as follows:
1. Price Fluctuation Risk
Stock prices fluctuate due to the changes in the information of the company's growth and profitability, and any changes in such information. They also fluctuate as they are affected by economic and political conditions in Japan and abroad. There is a risk that the Fund may incur material losses if unexpected changes occur in stock price movements or liquidity.
2. Liquidity Risk
There is a risk that the Fund will incur unexpected losses when the market size or trading volumes is small. The purchase and sale prices of securities are influenced by the trading volume, resulting in the inability of the Fund to sell certain stocks in its portfolio at prices that are expected to be realized in light of the prevailing market trend, that a security can sold as appraised, or that the transaction volume is limited regardless of the price levels.
3. Credit Risk
There is a risk that the Fund will incur material losses in the event of a crisis that directly or indirectly affects the business of a corporation in which the Fund invests. The prices of stocks of issuers may substantially decline (possibly to zero) due to fears of default or corporate bankruptcy, which can contribute to decline in the Fund's NAV.
4. Security-lending Risk
Lending of securities is accompanied by counterparty risks, which are the risks of default or cancellation of lending agreements as a result of bankruptcy, etc., of the counterparties. As a result, there is a risk that the Fund will suffer unexpected losses. Following the default or cancellation of a lending agreement, when liquidation procedures are implemented by using the collateral that is set aside in the lending agreement, the procurement cost of buying back the securities can surpass the collateral value, due to price fluctuations in the market. In such cases, the Fund is required to pay the difference, which may cause the Fund to incur losses.
Risk of Discrepancies Between FTSE Japan Green Chip 35 Index and NAV
This Fund seeks to match the NAV volatility with that of the FTSE Japan Green Chip 35 Index, however, we cannot guarantee that movements will be identical to those of the Index for the following reasons:
The potential market impact from the trading, etc., of individual issues when portfolio adjustments are made due to changes in selected issues on the FTSE Japan Green Chip 35 Index or capital transfers, or costs borne by the Fund such as trust fees, brokerage commission, and audit costs, etc.
Dividends may be paid by stocks in the portfolio and fees may be earned for securities lent.
When derivative transactions such as futures are made, there may be disparity between the price movements of all or some of such transactions and that of the FTSE Japan Green Chip 35 Index.
Discrepancy between the market prices at which stocks are traded on financial instruments exchange and the NAV.
The Fund is listed on the Tokyo Stock Exchange and the units are traded on that exchange. The market price of the units is affected primarily by the size of demand for the Fund, its performance, and how attractive it is to investors in comparison with their other investments. It is not possible to predict whether the units will sell in the market above or below the NAV.
*The factors that contribute to fluctuations in the NAV are not limited to those listed above.
Additional Considerations
These materials are distribution materials created by Nikko Asset Management with the intention of communicating information on "Listed Index Fund FTSE Japan Green Chip 35" in order to increase investors' understanding of this Fund.
The provisions stipulated in Article 37-6 of the Financial Instruments and Exchange Act ("cooling-off period") are not applicable to Fund transactions.
This Fund differs from deposits or insurance policies in that it is not protected by the Deposit Insurance Corporation of Japan or the Policyholders Protection Corporation of Japan. Furthermore, units purchased from registered financial institutions, such as banks, are exempted from compensation by the Japan Investor Protection Fund.
When applying to invest in the Fund, please make the decision to invest carefully after taking the time to read the delivered pre-agreement document and other relevant materials in detail.